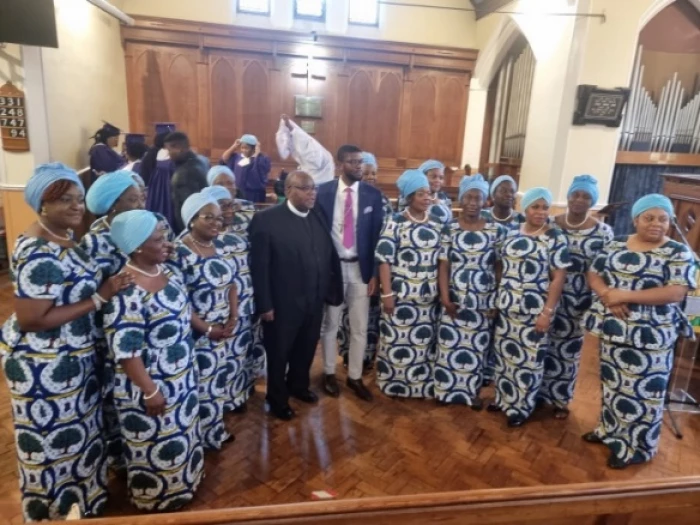 On Sunday 19th March the Milton Keynes Circuit welcomed the Vice President of the Methodist Church in Britain, Mr Anthony Boateng.
The Vice President preached at a Circuit Service held at Queensway Methodist Church that was attended by members from circuit churches and LEPs, both ministers and lay. The uplifting message preached by Mr Boateng was based on a Theme of "Revival", with Bible readings from Acts 2: 4 – 21 read by John Careford a member of Freeman Methodist Church and a Local Preacher.
The second reading was read by a Queensway Sunday school pupil Samuel Atieku who read Luke 7: 18 -28. In his address he emphasised the need for the Methodist Church both local and national to engage in Revival in order to fulfil its calling. The Vice President also commended the presence of groups such as the MCZF and Ghanaian Fellowships in the Circuit as a positive start in reviving our churches.
The Queensway Choir led the procession, with prayers from Rev Nicola Vidamour and Mrs Jacqueline Commey and the Benediction from the host minister, The Rev Edson Dube. After the service, the gathering was treated to food from different cultures represented in our churches provided generously by the Queensway Women's Fellowship and MCZF Manyano/Ruwadzano.
Pause for thought
Hebrews 10: 25 reads "Let us not give up meeting together, as some are in the habit of doing, but let us encourage one another and all the more as you see the day approaching."
Circuit gatherings and services are a way of fostering the oneness in the body of Christ. We learn, pray and encourage one another in order to grow in faith.